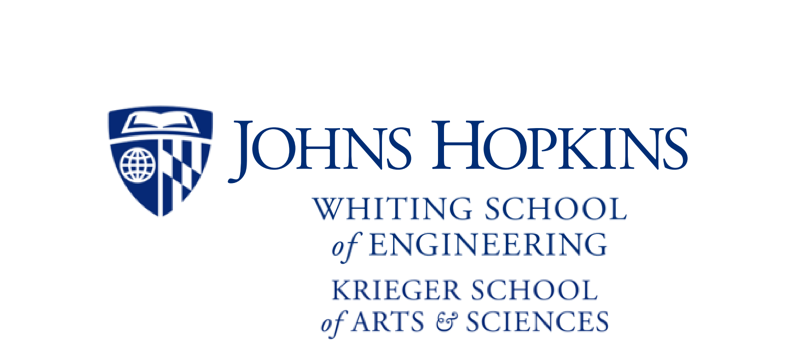 Overview of Services
The Integrated Imaging Center (IIC) was originally established as the Advanced Microscopy Facility (AMF) and devoted exclusively to LM techniques; it was initially directed by Dr. William Busa; and later by Dr. Michael Edidin. In 1998, the AMF was incorporated into a newly created EM Facility to form the present IIC. The IIC currently serves more than 80 laboratories and >250 users in the greater Baltimore area.The Center is directed by J. Michael McCaffery, a Research Professor in Biology, who has 30+ years of experience in applying LM/EM to diverse biomedical research questions and is a leading expert in the use and application of immunocytochemistry; wide-field fluorescence, confocal, and multiphoton microscopy.
Erin Pryce is the IIC's Manager. A recent graduate of Ithaca College, Erin is an expert in all aspects of fluorescence LM, including confocal, deconvolution, FRET/FRAP/FCS. She is FACS Facility supervisor as well; and has considerable experience in transmission electron microscopy.
Hanhvy Bui is the manager of our Homewood Flow Cytometry Resource.
Yuan Cai is a Research Specialist 2 who oversees the microscopy suite in Dunning Hall. She is also our Lightsheet specialist; and an expert in Imaris
Additionally, the Center is fortunate to have Little Miss Sookie Stackhouse McCaffery and Ms Lillie Langtry Wendland available as consultants for those particularly difficult imaging/microscopy problems. Sookie is a recent graduate of the well respected Mountain Park University in Kansas; and Lillie attended Baldwin State University in Maryland.
Leadership
Director: J. Michael McCaffery

Location and hours of operation
24/7 access for Trained Users
The Integrated Imaging Center (IIC) is a Homewood-campus core facility located variously in Croft, Dunning, Levi, Mudd, and Olin Halls (see #s 8, 11, 12 ,18,and 27 circled in yellow on map ), and serves the diverse academic and research interests of the students and faculty in the Whiting School of Engineering and the Krieger School of Arts and Sciences, as well as the Hopkins-wide community. Our Center comprises flow cytometry and cell sorting; fluorescence/light microscopy; and electron microscopy, including conventional, analytical, and cryogenic TEM. The IIC emphasizes the complementary use of these tools for the purpose of investigating cellular/subcellular structure and function, nanobiotechnology, and materials and engineering. The Center is housed in ~5000 sq.ft. suite of rooms; and is readily available to all interested University and non-University users. Additionally, our substantial computer resources are easily accessed by authorized users (campus wide and elsewhere) via the Internet. Reserved parking (#70 in green below) is provided.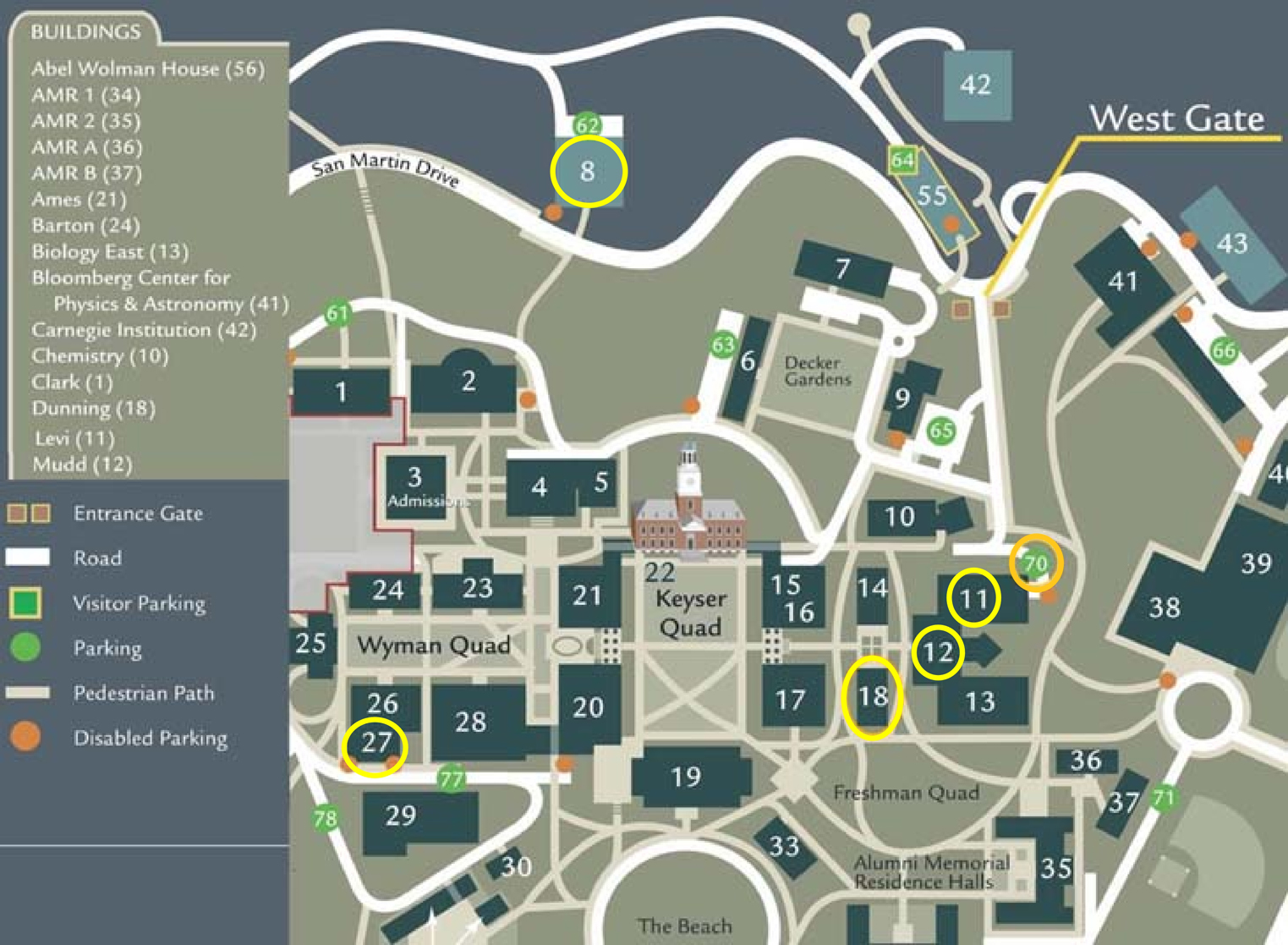 Directions: From I.S. 83 north or south take the 28th Street exit and go east; proceed to Reminington Ave. and turn left. Go north to the second stop light and turn right onto Wyman Park; go through one stop light to the stop sign at San Martin Dr./Wyman Park junction; and turn left onto San Martin; follow this by Olin Hall on your left, through a couple of lazy 'S' turns; pass under the foot bridge that crosses San Martin drive; and turn right into the Westgate Entrance to Hopkins. Proceed to and through the next stop sign; drive directly towards the building facing you (Levi Building); veer slightly left and park in any one of three spaces labeled 'IIC Visitors'. Place parking pass on your driver's side dashboard; walk southwest and up the steep staircase next to the New Chemistry Building (#10); and at the top veer southeast towards Dunning Hall (#18). Enter Dunning, turn right, and ring the door bell on the east wall next to the IIC entrance. If no one appears to let you in within a couple of minutes, please call 410-516-8042 or 410-516-3321.
Links and Resources