Overview of Services
The Exercise Physiology and Body Composition Core's laboratory provides metabolic stress testing, indirect calorimetry, DXA measurements for body fat, muscle and bone composition, BIODEX strength assessments, endothelial function testing using AI, PWV and EndoPAT and also supports exercise-training protocols.

Stress Testing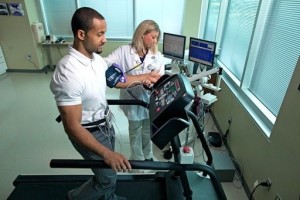 ECG stress testing and metabolic stress testing is available for diagnostic screening and for protocols that require measurement of oxygen consumption and related cardiopulmonary parameters. The available software allows for continuous 12-lead ECG monitoring, automatic resting ECG interpretation, arrhythmia detection, ST level, and slope analysis. A treadmill or cycle ergometer can be interfaced with the computer in order to accommodate various research protocols. The system uses a pneumotachometer to acquire breath-by-breath gas exchange and ventilatory data. Gas samples are evaluated using oxygen and carbon dioxide analyzers. The system can also be used to assess pulmonary function and resting metabolic rate. The metabolic cart is on the computer network to allow for transfer of data into study databases for statistical analysis.

Muscle Strength Testing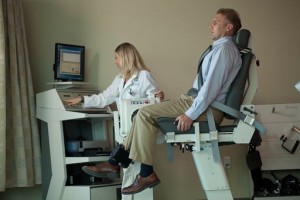 Available equipment includes the Biodex System 3 dynamometer, which conducts isokinetic strength testing of various muscles groups. Pediatric attachments are available. Multi-station resistance trainers can also be used for isodynamic strength testing. Hand grip assessment is also offered.

Vascular Testing

Endothelial Function
The EndoPat or Endothelix systems both measure endothelial response to reactive hyperemia following the release of arm blood flow occlusion. The EndoPat system measures changes in blood flow volume in response to reactive hyperemia, whereas the Endothelix measures changes in fingertip temperature.
Vascular Stiffness
Vascular Stiffness is measured as the pulse wave augmentation index (AGI). It is derived from measurement of the pulse wave contour and is a measure of the pressure wave is reflected back during pulse wave cycle, which is a measure of vascular stiffness. AGI can be obtained from the EndoPat and SphygMoCor, each of which measure the radial artery pulse wave.
Anthropometric, Body Composition and Functional Assessment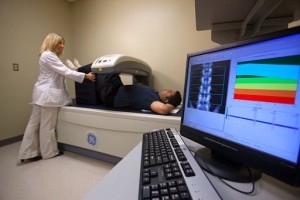 We offer several non-invasive techniques to measure body composition, including:
For bone density, the analysis can provide focused scans that include the femur, forearm, and lumbar spine. Scans are available for both adults and children.
Bioelectrical Impedance Analysis (BIA): A small current is passed through the body to estimate body fat mass (weight and percent), fat-free or lean body mass (weight and percent), and body water.

Harpenden skinfold calipers, assorted tape measures, and a girth measurement tool are available for anthropometric assessment.

Walking wheel measure, plastic cones and arm chairs are available for gait and balance assessments.
Exercise training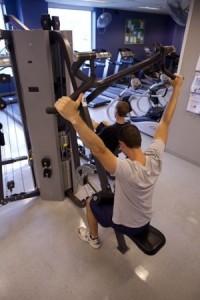 Exercise training is available at the Bayview Asthma and Allergy building. Participants can perform workouts on a variety of aerobic and resistance exercise training equipment. There is also ECG telemetry equipment for heart rate and ECG monitoring. Blood pressure and heart rate can be taken before, during, and after exercise.
Cardiovascular Imaging Core
The Cardiovascular Imaging Core is located at the Bayview CRU. The Core provides echocardiographic and carotid imaging for approved CRU protocols, as well as measurement of endothelial function and arterial stiffness. The Cardiovascular Imaging Core provides the following services and equipment:
Echocardiography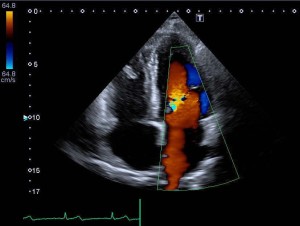 Transthoracic echocardiograms are performed on a Toshiba Artida ultrasound system by an experienced sonographer. All cardiac studies are stored digitally and can be analyzed using commercially available state of the art equipment that has the capability of 2D, M-mode, Doppler, and speckle tracking analysis. Image acquisition and analysis protocols can be customized to meet the unique needs of the investigator.
Carotid IMT
Carotid imaging is performed on a Toshiba Aplio ultrasound system by an experienced sonographer. Using commercially available state of the art equipment that includes automated border detection, the core lab can accurately measure carotid intima-medial thickness and plaque and vascular distensibility.
Brachial Reactivity Studies
Brachial ultrasound studies are performed on a Toshiba Aplio system. A high frequency (15Mhz) ultrasound transducer is held in place by a mounted stationary device to insure reproducibility of brachial reactivity measures. Endothelial function tests are performed using both cuff inflation and nitroglycerin to induce brachial flow mediated dilatation (FMD). Analysis of both brachial diameter and flow velocity is performed using state of the art commercially available equipment with automated edge detection.
Stress Echocardiography
Stress echocardiography is a test that uses ultrasound imaging to evaluate heart function during exercise stress. These exams are performed using a Toshiba Artida ultrasound system by an experience sonographer. A cardiologist will be closely monitoring the heart function, ECG, heart rate, and blood pressure throughout the exercise testing. Stress echocardiography can be performed on a supine bike while lying down and pedaling, or can be performed by walking or running on a treadmill. At fixed intervals, the level of exercise intensity will increase. The goal is to reach maximum physical exertion to evaluate heart function.
Leadership
Pamela Ouyang | ICTR Deputy Director, Director of Johns Hopkins Women's Cardiovascular Health Center
Kerry Stewart | Director, Research Exercise Physiology Core | 410-550-0870 | kstewart@jhmi.edu
Kimberly Keck | Echocardiographer Program Coordinator | 410-550-6720 | kkeck2@jhmi.edu
Faedra Arwady | Research Exercise Physiologist | 410-550-5348 | fbernie1@jhmi.edu
Location and hours of operation
Location

Hours

301 Mason Lord Drive

Suite 4100

Baltimore, MD 21224

9:00 am -4:00 pm
Links and Resources
[ link or resource # 2 ]
[ etc... ]