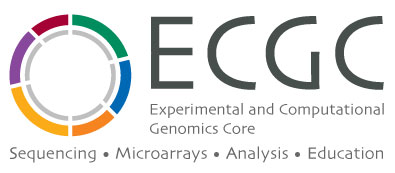 The Next Generation Sequencing Center (NGSC) is a member of the new Experimental and Computational Genomics Core (ECGC) at SKCCC. The NGSC, Microarry Core, and Bioinformatics core have come together to provide integrated services and educational appropriates for the Johns Hopkins University and cancer center members.
Overview of Services
We want to make sure that your experiment is done well, from the design stage through sequencing and then analysis.
We try to support any research project. Some common applications include:
Human exome sequencing

ChIP-sequencing

RNA-seq

DNA methylation analysis

Eukaryotic and microbial whole genome sequencing

microRNA sequencing

Diverse array of custom projects
We can also handle a variety of purely computational requests on a fee-for-service basis.
Please go to our FAQ page for more detailed information.
While we prioritize projects from Cancer Center labs; we efficiently address projects from any other Johns Hopkins investigators.
More information about the core can be found on our website: ecgc.jhmi.edu.

Our Goals:
Innovation
Flexibility
Completeness
Personnel:
Vasan Yegnasubramanian, M.D., Ph.D., Facility Director
Sarah Wheelan, M.D., Ph.D., Bioinformatics Director
Leslie Cope, Ph.D., Bioinformatics Director
Kornel Schuebel, Ph.D., Laboratory Director
Ludmila Danilova, Ph.D.
Lauren Ciotti, Communications Associate
Jennifer Meyers, Lab Manager
Alyza Skaist, MS, Bioinformatics Analyst
Anuj Gupta, MS, Bioinformatics Analyst

Location and hours of operation
Hours
Location

8:30 - 5pm

Monday - Friday

Excluding Holidays

1550 Orleans St. CRB-II, Room 131

Baltimore, Maryland 21231
Consultation meetings are on Friday mornings from 10AM to 12Noon in CRB1, 192.
Sample drop-off times are on Tuesday and Thursday from 10AM to 11AM and 1PM to 2PM.
Search available services:
View: by category alphabetically
►

Bioinformatics (1)
Name
Description
Price

BioInformatics Services

Inquire

►

Custom Library (4)
Name
Description
Price

Library Tier I

Library Tier I (TruSeq Frag, ChIP)

Inquire

Library Tier II

Library Tier II (RNA, total, micro, prok.)

Inquire

Library tier III

Inquire

QC

Inquire

►

Illumina Sequencing (10)
Name
Description
Price

A) Illumina Sequencing 200 Cycle

Inquire

B) Illumina Sequencing 100 Cycle

Inquire

C) Illumina Sequencing 50 Cycle

Inquire

D) PPU Lab

Inquire

E) CPU Lab

Inquire

F) PPU Analysis

Inquire

G) CPU Analysis

Inquire

H) MiSeq 500 Cycle

Inquire

I) MiSeq 300 Cycle

Inquire

J) MiSeq 100 Cycle

Inquire

►

Service (12)
Name
Description
Price

A) ChIP Seq

Inquire

B) RNA-Seq Strand Specific, 1/16 slide

RNA-Seq Strand Specific, 1/16 slide, >50x10

⁶, 100x100bp

Inquire

C) RNA-Seq Strand Specific, 1/8 slide

RNA-Seq Strand Specific, 1/8 slide > 50x10

⁶, 100x100bp

Inquire

D) RNA-Seq Low-Input Non-strand specific, 1/16 slide

RNA-Seq

Low

-Input

Non

-strand specific, 1/16 slide, >50x10

⁶, 100x100bp

Inquire

Exome Sequencing

Includes:

Sure-Select Exome sequencing Library Prep, Library QC, Emulsion, WFA, Single-read Fragment Quad sequencing, Primary and Secondary analysis, Single-read fragment quad, Highly flexible Tertiary analysis.

(Variant calls, flexible/custom annotation pipelines to match research goals, data visualization)

Inquire

F) RNA-Seq Prokaryotic

RNA-Seq Prokaryotic (50bp, single read)

Inquire

G) MBD Seq

Inquire

I) MBD Seq w/ reagents supplied by user

MBD Seq w/ reagents supplied by user

Inquire

J) Whole Genome Sequencing, 100X coverage

Whole Genome Sequencing, 100X coverage

Inquire

K) Whole Genome Sequencing, 10-15X

Whole Genome Sequencing, 10-15X (one lane)

Inquire

L) Data Delivery

Inquire

M) Rapid Run Surcharge

Inquire